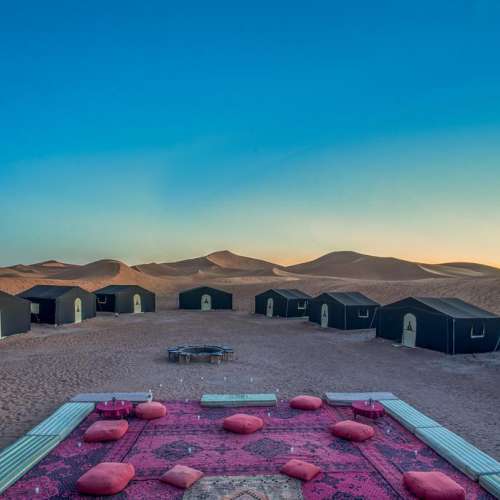 Karim Sahara. offers you "03 bivouacs comforts" fixed in ideal locations in the Moroccan South. .We will welcome you in our bivouacs with great pleasure: welcome. "Marhaba bikom" as they say at home !
Bivouac Erg N'khila :
For those who dream of living a unique experience, our bivouac Erg n'khila and its trekking activities invites you to immerse yourself in an authentic world, that of the Nomads. It is an adventure and an opportunity to live its unforgettable moments in the heart of a gigantic expanse. Our Bivouac is located between the desert and the mountains, 14 km from Zagora, the Karim Sahara Bivouac offers accommodation in traditional caidal tents. During your stay you can enjoy a bonfire and typical meals.
TRAVEL DIFFERENTLY BY PARTICIPATING IN COMMUNITY DEVELOPMENT
The establishment Karim Sahara is associated with Maroc Origines regarding the associative project
Bivouac in the erg-lihoudi :
Only "2 hour" drive by car or in 4×4 from Zagora or" 2 hour " ride from Mhamid. You arrived in a simple Bivouac which is installed at the foot of the dune of erg-lihoudi.Simple nomadic tents are made of goat hair reinforced with a wooden frame, you will taste the unforgettable charm of the sunset, a team animate your evenings, starry nights and will be amazed by the splendor of a morning sunrise. The tents are decorated according to Moroccan tradition, you will have a dinner to the rhythm of Berber songs..We offer dromedary walks on the spot, for sunset or sunrise.
Bivouac Erg chegaga :
For those looking for comfort in the heart of the desert. Our camp Erg Chigaga is comfortable and authentic for a unique experience in the heart of the Sahara dunes. A memorable night under our tents very well equipped: large beds, hot showers. A moment under the stars you won't forget
Erg Chigaga is considered the "true" Sahara desert with its authentic and rustic colours, sand dunes, fauna and flora. If you're looking for an unforgettable moment, it's a way to escape the hustle and bustle of the city and find yourself in the middle of nowhere. Our Erg Chigaga camp is located at the foot of the huge sand dunes that stretch for more than 40 km. Paradise for those who wish to relax and discover these desert areas.