Book your flight tickets as soon as possible... we'LL take care of the rest!!
Moroccan Desert – Trekking – Tours – Excursions
Choose your trip to Morocco, we do what it takes to be unforgettable lifetime experience !
Would you like to organize a discovery trip, a hike in the mountains or in the desert, celebrate a birthday or a wedding, a motivation trip, a sports event or simply a pleasure trip with friends ?We can help you make your trip a cherished memory.
Yes, we are operating in a highly competitive atmosphere , but above all, we offer you a quality service!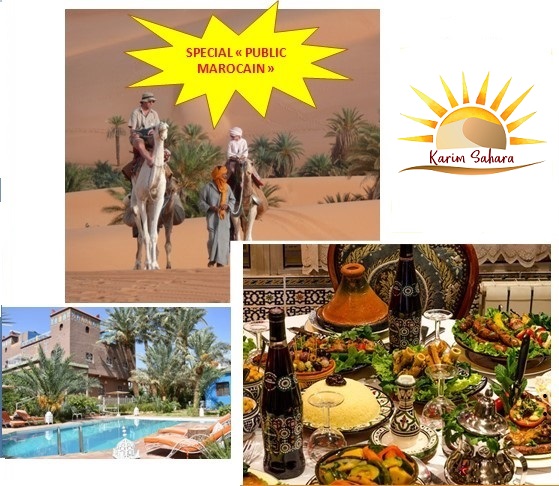 Summer holidays are approaching and will finally have the long-awaited taste of travel and change of scenery.
3 days and 2 nights in Zagora from Marrakech
Price per person (4 persons minimum) Valid until 31 August 2020)
1 Night in Riad + 1 Night in bivouac standard: 1400,00 Dh
1 Night in Riad + 1 Night in luxury bivouac .. : 1700,00 Dh
book Now
Our services
We pick you up at the airport and drop you off at your hotel (which can be booked either by us, by yourself or by your travel agency).
During the desert excursion, your car and luggage can be kept in Zagora or M'hamid, it depends where the Tour starts.
Objective
Desert excursion is our unique passion! We are keen to share with our visitors the purely traditional aspect of the Sahara in a straightforward and authentic way.Moreover, our programs can be flexibly tailored to suit to your individual needs and wishes.The tour is organized according to the number of days desired..
Contact
Contact us by email or phone to formulate your custom trip. Our agents and advisors are at your disposal from Monday to Saturday 8h00 to 20h (GMT).
We will respond within 24 business hours, Monday to Saturday.
OUR AGENTS AND ADVISORS ARE AT YOUR DISPOSAL FROM MONDAY TO SATURDAY 8: 00 AM TO 8: 00 PM